Moon Calendar Watch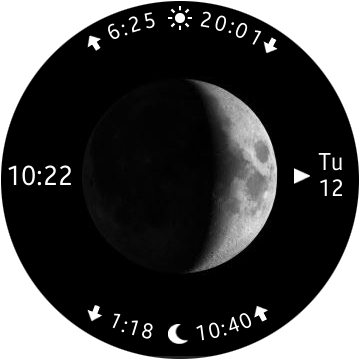 The Samsung Gear S2 smartwatch app
Moon Calendar Watch shows the moon phase and the precise times of sunrise, sunset, moonrise and moonset.
Rotate back / forward for moon data of the next day or tap the Play button to run an animation of the moon phase calendar for a quick overview.
This Gear S2 app can be used without connection to your phone. But you should run the
Android phone app
Moon Calendar Watch once per week to update the moon data on your watch.
Link to Gear S2 app Moon Calendar Watch:
Sorry, Samsung does not support Web links to Gear apps. Please open on your phone the
Gear Manager
app and search there for Moon Calendar Watch.
---
Home
About Us
Products
Support
Contact